Is the Administrative Burden of Rx Claims Taking Too Much Time?
Let EHO automate the process, create savings, and free more time for patient-specific tasks
EHO understands that Hospice plans require a concentrated effort to maintain the bottom line. There is a large volume of prescription claims produced for a smaller population of patients. Focusing on cost savings is key while keeping the patient's immediate needs in mind. EHO specializes in automated prescription drug benefit solutions for Hospice.
During the custom benefit design process, every aspect of your business will be taken into account from the clinical needs of your patients to cost savings recommendations. Spending limits will be established and additional charge controls will ensure you are not overcharged. EHO strives to reduce your administrative burden, so you can focus on patient care.  EHO streamlines the process by paying the pharmacy directly.
EHO Caters to Hospice Plans
Patient-specific MARS
Hospice medication management systems
COP and Pharmacist reviews
Conditions of Participation and CMS requirements
ePrescribing
24/7 live call center
Diagnosis-specific formularies
Custom reporting
Real-time prior authorizations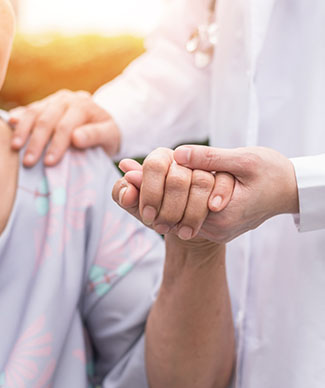 Find a Pharmacy in Our Network
CLINICAL
Clinical Services to Help Hospice Make Informed Decisions on Medication Utilization and Deprescribing
EHO partners with specialized hospice and palliative care clinical pharmacists to develop customized, clinical services and programs for hospice. The collaboration offers a greater range of services that are tailored to fit each hospice and their individual needs. EHO's primary goal is to provide an elevated level of clinical support with an emphasis on cost reduction and optimized patient care strategies.
How can EHO's Clinical Pharmacists help?
Educational drug utilization reviews
Custom formulary design
Deprescribing strategies and medication cost management
Individualized patient consultations, including symptom management consultation
Medication profile reviews to meet and exceed Conditions of Participation requirements
National Hospice Partnership for End-of-Life Dreams
In 2020, EHO began a National Partnership with DreamCatchers, a nonprofit that creates powerful connections for younger and older generations by empowering high school and college students to fulfill the end-of-life dreams of hospice patients. In 2021, EHO renewed its transformative support of DreamCatchers. Our goal in this partnership is to enable DreamCatchers to grow nationally and increase the number of dreams they are able to fulfill so that more patients can experience joy and kindness at the end of their lives. The skills that youth learn during their experience working with DreamCatchers is also life changing.
"Partnering with DreamCatchers was an easy decision for EHO. The work they are doing to positively impact those near to the end of their life, and develop youth in the process, is exemplary. EHO believes deeply in the inspiring work they are doing for hospice patients, students and our communities. We are proud to support their work."
— Bryan Springston, EHO Partner
"EHO has had a massive impact on DreamCatchers. Our nonprofit is almost entirely volunteer run. We do a lot with a little and having EHO's incredible support of our organization has given us the resources we need to elevate our visibility and expand our reach. EHO has made our dreams come true!"
— Caitlin Crommett, Founder & President of DreamCatchers